0 Andalusia Diaspora around the world
Our in-person family gatherings
Ireland's President Higgins family message
Our TEDx talk about family gatherings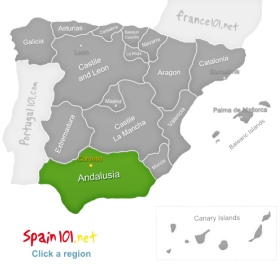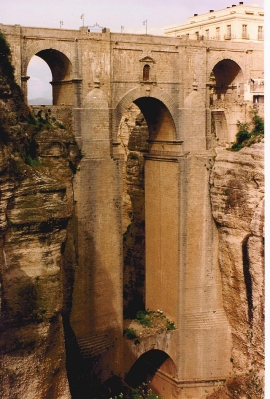 Ronda - Puente Nuevo tall Jmabel
[GFDL or CC-BY-SA-3.0], via Wikimedia Commons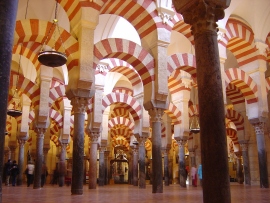 Mosque Cordoba By Timor Espallargas (Own work)
[CC-BY-SA-2.5], via Wikimedia Commons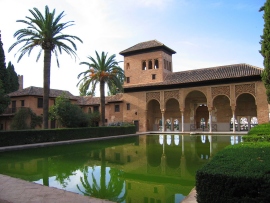 Palacio del Pórtico By jan zeschky from glasgow, scotland (Palacio Nazaries, Alhambra, Granada)
[CC-BY-2.0], via Wikimedia Commons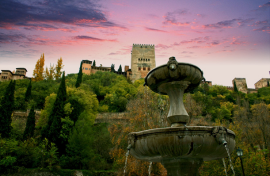 Alhambra de Granada - España By ángel mateo (GRANADA 001 on Flickr)
[CC-BY-3.0], via Wikimedia Commons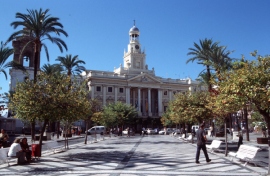 Cadiz palace Falkue at the German language Wikipedia
[GFDL or CC-BY-SA-3.0], from Wikimedia Commons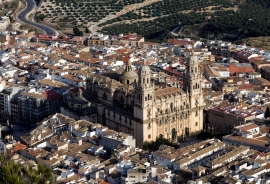 Catedral de Jaén - afloresm By Alejandro Flores from Sevilla, Spain (Catedral de Jaén)
[CC-BY-2.0], via Wikimedia Commons
Andalusia
Andalusia is famous for Andalusian horses, also called pure Spanish horses, but it is also a region that is of interest to people who would like to know more about the life of Christopher Columbus, who was known to the Spanish as Cristóbal Colón. Of course, he was not a Spaniard, the the Spanish were willing to fund his mission to the new world (in exchange for getting to reign over the countries he would find). So of course, Columbus had a bit of time to spend in Spain, and some of the most important sites can be found in Andalusia.
Huelva
For the people who would like to visit some important Columbus places, Huelva would be the ideal base, as places like Moguer, La Rabida and Palos de la Frontera can easily be reached from there (there are regular bus connections). Palos de la Frontera is the place where Columbus found his crew, so it's definitely worth a visit. In all three places you'll find one or the other Christopher Columbus memorial.
La Rabida is a monastery. It is the place where Columbus used to stay while he was waiting for news about the money he needed for his mission. The monastery also has an interesting history. An earthquake in 1755 damaged it, and in 1835 it was left. A bit later, in 1856, it opened once more after it had been named a national monument. Since 1920, the Franciscan monks live in the monastery again. It is not only the murals that depict Columbus' life, but also the lovely gardens surrounding the monastery that make this into a worthwhile visit.
Muelle de las Carabelas (Harbour of Caravels)
Another good place to learn more about Christopher Columbus (after all, he might very well be the reasons why your own Spanish ancestors ended up in America!) is Muelle de las Carabelas. This harbour is not too far away from Huelva either, and is on the estuary of the Rio Tinto. You can see life-size replicas of the ships Columbus used: the Nina, the Santa Maria and the Pinta. You are even allowed to board the ships and explore them. It is a lot of fun, and the nearby museum will also supply you with the necessary knowledge so you can appreciate those vessels even more. The port itself has been designed so it looks exactly (well, close enough) like it would have looked on the day Columbus went on this fantastic mission to find the new world. This is the perfect place to feel like you are stepping back in time, and living in a great adventure yourself.
There are plenty of other places that were important in the life of Columbus – if you visit this region because of your interest in that important man, then you will surely not be disappointed.
Sierra Nevada
If you have done enough culture, then you should take some time to explore the Sierra Nevada mountain range, which is the home to Spain's highest mountain. The Sierra Nevada also the the Southernmost ski area in Europe.
Seville
Seville (which is a city as well as a region) is a lovely place to visit if you would like to learn more about Andulsia than just which role it played for Christopher Columbus. Sevilla is a city that – according to legend – was founded by nobody but Hercules himself. The city has been around for a while, and thus also saw its fair share of troubles, failures and victories. The historic buildings, including one of the largest cathedrals in Europe, are impressive and will leave you wanting to learn more. There are plenty of museums, and you could spend weeks in Seville without even having scratched the surface of all the knowledge available in this historic yet modern city.
Malaga – Costa del Sol
Malaga is often called the capital of the Costa del Sol (coast of the sun), and it definitely is a good place to start if you would like to explore the costa del sol and its many fabulous beaches. However, it is not all about beaches in Malaga. It is actually the one city you need to go to if you have a love of museums. There are at least 30 museums in Malaga, and this alone turns Malaga into the Andalusian city with the highest count of museums. If there's a speciality that you'd like to learn about in regards to Andalusian culture, then Malaga will most likely have a museum dedicated to it. And after a long day in the museums, you can then enjoy a walk at the beach and watch one of the lovely sunsets.
Granada city and province
The Granada province within Andalusia is a beautiful region to explore if you are interested in Spanish wildlife. There are fantastic national parks, and you can see lots of interesting animals. Granada City itself is definitely worth a visit because the palaces and other historic buildings look fantastic against the mountainous backdrop.