0 Aragon Diaspora around the world
Our in-person family gatherings
Ireland's President Higgins family message
Our TEDx talk about family gatherings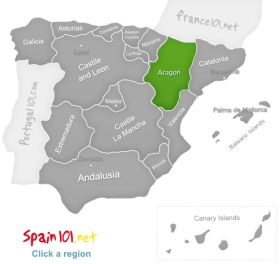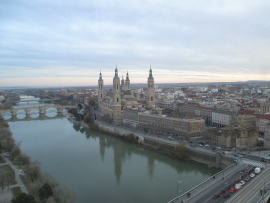 0849_pilar_ebro_2004 By de:Benutzer:Gisbertn (w:de:Bild:0849 pilar ebro 2004.png)
[GFDL or CC-BY-SA-3.0], via Wikimedia Commons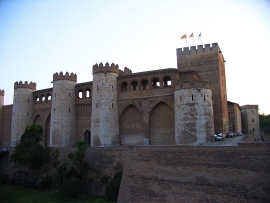 1024px-Castle By User:Archivaldo (Foto propia)
[Public domain], via Wikimedia Commons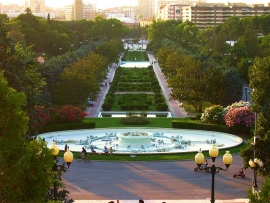 1024px-Parque_Grande By User:Archivaldo (Foto propia)
[Public domain], via Wikimedia Commons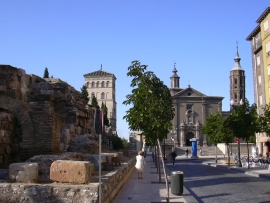 Murallas romanas - Torreón de la Zuda - San Juan de los Panetes By ecelan (Self-published work by ecelan)
[GFDL, CC-BY-SA-3.0 or CC-BY-2.5], via Wikimedia Commons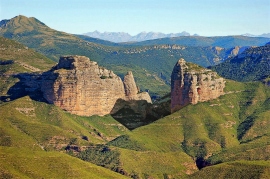 Salto_de_roldan By User. José Luis Núñez
[CC-BY-SA-3.0 or GFDL], via Wikimedia Commons
Aragon
Aragon is one of the regions of Spain you don't go to if you would just like to sit at a beach – because there are no beaches in this Spanish region. There are also hardly any tourists, and it probably is one of the most untouched regions in Spain when it comes to international tourism. It is a region of forests, rivers, and mountains (after all the region is located in the Pyrenees). But of course, the cities and villages also brim with historical buildings and architectural beauties.
Ordesa National Park
You can find some of Spain's most beautiful landscapes in the Ordesa National Park, and you can also find the three highest peaks of the Pyrenees here (Aneta, Possets, and Monte Perdido, which are all over 3,300 meters high). Apart from being the first protected region in Spain, the national park also is famous for being the home of some rare wildlife like some very rare birds of prey. The park is very impressive, and you need to inform yourself well before you head out on your own. Less experienced hikers should try to book a guided tour, and/or stick to some of the easier hiking paths.
Saragossa
Saragossa is well over 2,000 years old, and the fifth largest city in Spain. If you meet tourists, then this will most likely be the place where you meet them. The city is a great example of the Roman Empire's influence in Spain. Many of the architectural remains from ancient times have been restored and made accessible to visitors. You can visit old thermal baths, walk across the city's forum, and explore many other sights of the city's past. Of course, a city like Saragossa also has quite a few very good museums in which you can learn even more about the Roman Empire, and how it influenced Spain's culture.
Tereul
If you have never heard of the architectural style called Mudejar, then Tereul would be one of the best places to go to. It is said that the Mudejar architecture in Tereul is the finest example of this type of architecture that you can find in all of Spain. The city's architecture is protected as a UNESCO World Heritage site. In Tereul, you can also learn about times in which Moors, Christians and Jews could live together peacefully side by side.
Huesca
Is the smallest of the three "big" cities in Aragon, and most people would say that it is the friendliest and most relaxed of the three. You can easily explore everything without a car, and it is here where you can see how the landscape changes from the plains to the foot-hills of the mountains. There is a cathedral, and there are also plenty of other historical buildings.
Albarracin – Spain's most beautiful village
While it's exciting to explore the bigger cities and towns, you should not miss out on a little gem called Albarracin, which is located in the Sierra de Albarracin National Park. It is not only a great place to visit because of its historical preservation, but also because it has been officially named the most beautiful village in Spain.
Adventure in Aragon
Aragon has a lot to offer for people who like adventures. In winter, you can find some of Spain's best ski resorts in this region (e.g. Astun, Cerler and Formigal). Those resorts are very popular with Spanish as well as French visitors. For the people who don't like winters too much, the region offers plenty of activities during the warmer months. You can go rafting, hiking, canoeing and canyoning. You can have as little or as much adventure as you would like. There are snow-capped mountains, and lush valleys with clean rivers. The choice is yours.