0 Asturias Diaspora around the world
Our in-person family gatherings
Ireland's President Higgins family message
Our TEDx talk about family gatherings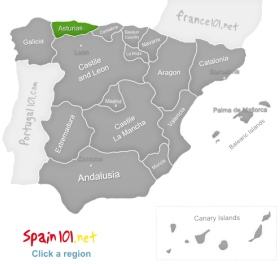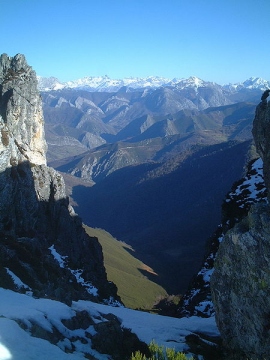 Picos De Europa By Damiovi
[GFDL or CC-BY-SA-3.0], via Wikimedia Commons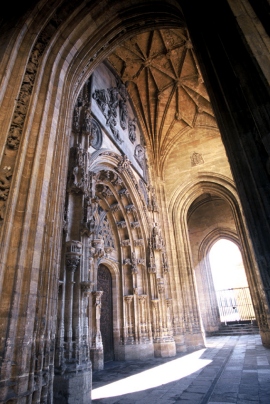 Oviedo Catedral By Urbano Suárez([1])
[CC-BY-SA-2.5], via Wikimedia Commons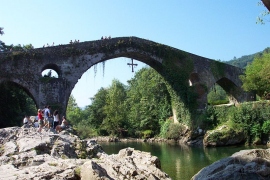 Cangas De Onis By Higinoa (Own work)
[CC-BY-SA-3.0], via Wikimedia Commons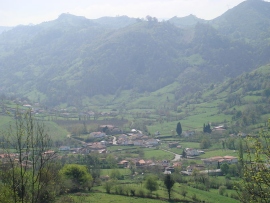 Sama By Josegmsama (Own work)
[GFDL or CC-BY-SA-3.0-2.5-2.0-1.0], via Wikimedia Commons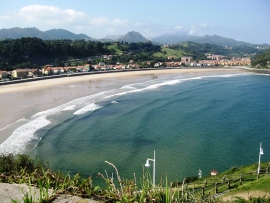 1024px-Ribadesella01 By Nicola (Own work)
[CC-BY-SA-3.0], via Wikimedia Commons
Asturias
Visitors to Asturias, who are not prepared for the region, might be disappointed if they came to Spain, expecting to see the typical Mediterranean lifestyle. You really need to go further South for that. Asturias actually has a more Celtic attitude, and visitors will often not find Asturias the easiest region to travel in. The Spanish do welcome visitors in Asturias, and there is a strong focus on outdoor adventures, however, you need to be aware of the fact that international tourism isn't that big (yet) in Asturias, and you will be expected to respect the locals more than in more touristy regions, and you'll also get around a lot easier if you learned a bit of Spanish before your arrival.
Oviedo
Ovideo might not give you the best first impression because you'll most likely notice clouds of smoke over the city, as it is quite an industrial city in some regards. Oviedo is home to around 200,000 inhabitants and is the capital of Asturias. It is in a quite good location, and would make an ideal base for people who wish to explore the region. Once you are in the city, you will also notice that the industrial areas are well out of your way, the city itself is not dirty, and you might be pleasantly surprised. There is a lovely museum, great markets, and plenty of history to discover. The layout of the medieval part of the city has not been changed for centuries, so you will be able to get a feel of what life in the city must have been like ages ago. It is a great example of medieval street designs.
Gijon
Gijon is home to one of Spain's largest shipping ports. The city itself dates back to Roman times, and while Oviedo takes the name of capital, Gijon can clearly be called the maritime capital of Asturias. It also has more inhabitants than Oviedo, and there's generally a slightly busier atmosphere. There are nine beaches that can be reached from the city, and it is a popular place with tourists. There are also tours of the city that are offered in multiple languages. The city is one of the most prosperous cities in Spain's North, so you will also find plenty of shopping opportunities. The city is a mix of old and modern, and the inhabitants are confident people who look into the future with positivity.
Aviles
Aviles has two rivers running through it, and is mainly interesting because it has a beautiful and big old district. It also is quite close and within easy reach of the other two cities. It would be an ideal place if you would not like to spend too much time in either of the other two cities. There are no super-impressive buildings on grand scale in Aviles. This city is more about the total picture, the city does not need a huge cathedral to impress visitors because of the general feeling you can get when you wander around in the expansive old quarters. Compared to other Spanish towns, this one is also quite colourful!
Arenas de Cabrales
This little village usually only has around 800 inhabitants, but in the summer months the place is a lot busier as hiker and other outdoor adventure types use Arenas de Cabrales as a base to explore the outstanding areas of natural beauty around the little village. If you can, then try to avoid the busy summer months, because without all the visitors, this little village is the perfect place to observe a typical Spanish village. The mountains are just four miles away, and can easily be reached. There isn't anything exciting in the village if you are after historic buildings, but for people who would like to get a taste of real Spain, this is the ideal place to go to. It's also hard to get lost, the road enters the village at one end, and leaves the village at the other end!
Luarca
Luarca is a small but charming fishing village at the Northern coast of Asturias. The main drawing point for this little gem is the harbour. It is one of the most picturesque harbours you could find in this part of Spain, and it's a hidden gem, so you won't find too many other tourists. If you go for a walk up the hills that surround the little village, you will be rewarded with great views on the village and the harbour. Luarca is also home to one of the most beautiful graveyards in Spain.