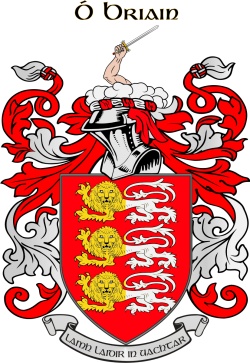 Get this crest printed on...
BRIEN Family History
The O?Briens take their name from the 10th century Brian Boru who was the High King of Ireland. A very powerful and numerous sept in Clare and Limerick, they spread far and wide and still predominate in Munster. Their history fills volumes, beginning withthe sage of their contentions with the Normans and the Tudors. They were granted many titles of nobility; Earl of Thomond, Viscount Clare, Earls of Inchiquin. In the Battle of the Boyne they were active on both sides, the losing O Briens (the Viscounts of Clare) fleeing to France.