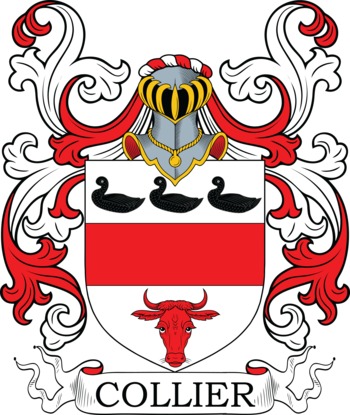 Get this crest printed on...
COLLIER Family History
This long-established name is of early medieval English origin, and is an occupational surname for a burner of charcoal, or a gatherer or seller of coal. The name derives from the Middle English "cole", (char)coal, from the Olde English pre 7th Century "col", with the agent suffix "(i)er", denoting "one who does or works with". Job-descriptive surnames were originally acquired with reference to the actual occupation of the namebearer, and gradually became hereditary. Early examples of the surname include: Bernard le Coliere, in the Somersetshire Pipe Rolls of 1172; Henry le Colyer, in the Buckinghamshire Hundred Rolls of 1275' and John le Collier, in the London Patent Rolls of circa 1280.