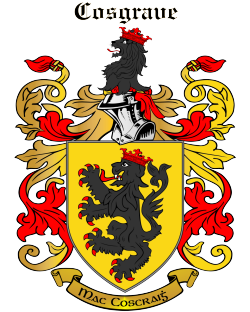 Get this crest printed on...
COSGRAVE Family History
This most interesting surname, is a County Cork variant of "Cosgrave", which is the Anglicized form of the Gaelic name "O'Coscraigh", meaning the male descendant (O) of Coscrach, a Gaelic nickname meaning "victorious, triumphant" (from "coscur", victory, triumph). The sept originally were settled in Clones, County Monaghan. Another sept of the same name, often Anglicized as Cosker, is found in south-east Leinster particularly around north Wicklow, near Bray. The name is also found as Cosgrove in Ulster and Connacht. The original Gaelic version of the surname first appeared in records in the late 10th Century. Benedictus O'Cascry, of the Connacht sept was Bishop of Killaloe until he died in 1325...