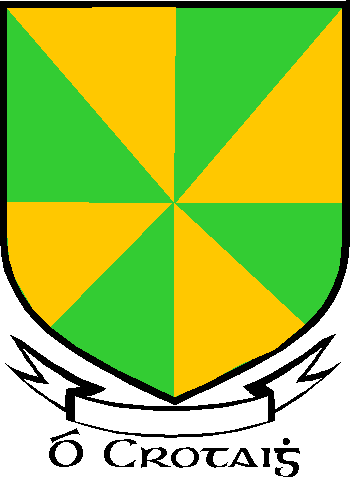 Get this crest printed on...
CROTTY Family History
This is an ancient Irish surname from the area around the city of Waterford. Originally spelt O'Crotaigh, and it is claimed, a sept or branch of the famous Clan O'Brien, the surname is a nickname, and one given to the first chief of the clan. The meaning is understood to be 'hunch back', or at least a reference to a physical deformity. This is the usual practice in many Gaelic surnames, the first chief of the Kennedys was known as 'Thick head', from the pre 10th century 'ceann eidigh', and this was retained as the subsequent surname. As to when the Crotty's became a separate clan from the O'Briens is not known, but the surname as 'Crottagh' was first recorded in 'Petty's Census of Ireland' in 1659, the nameholders (quote) 'being numerous in the baronies of Coshmore and Coshbride', in County Waterford...