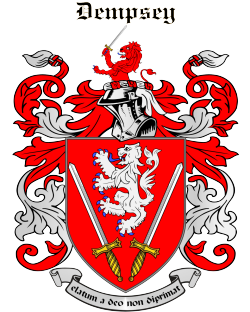 Get this crest printed on...
DEMPSEY Family History
The surname Dempsey is generally accepted as being of Irish origins and therefore correctly O'Dempsey. There can be little doubt that most nameholders do derive originally from this source. However the name has also been long recorded in England James Dempse being recorded in the Guild of Corpus Christi, for the city of York, in 1526, and it is believed that English name holders derive from now "lost" medieval village called Demsey, meaning the island (eg) on the lake (dembel), however this is not proven. The Irish clan was once one of the most powerful in the country, possessing great estates in the area known as Clanmalier, now the modern counties of Leix and Offally...