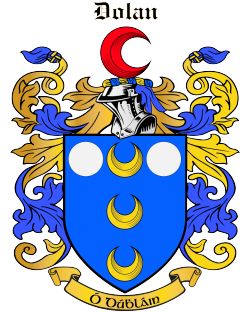 Get this crest printed on...
DOLAN Family History
This interesting surname is of Irish origin, and is an anglicization of the Old Gaelic "O'Dobhailein". The Gaelic prefix "O" indicates "grandson" or "male descendant of", plus the personal byname "Dobhailein", from "dobhail" meaning "unlucky" or "unfortunate". Traditionally, Irish family names are taken from the heads of tribes, or from some illustrious warrior, and are usually prefixed by "O" (as above), or "M(a)c", denoting "son of". The principal (O) Devlin sept belonged to County Tyrone; their territory lay on the Tyrone shore of Lough Neagh and was known as Munterdevlin, the first element coming from the Gaelic "muntir", country or territory...