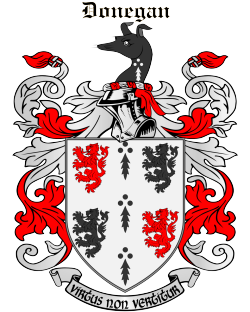 Get this crest printed on...
DONEGAN Family History
This is both a royal and noble surname. Recorded in several spelling forms including O'Donegan, Donegan, Dunican, Dungan, and Doonican, this small Irish clan, divided into four branches or septs, originates from the 10th century kings of a region called Fernmhagh, in what is now Coiunty Westmeath. As befits a "royal" family, their numbers, are quite small. In the 20th century only some two hundred families are recorded in the whole of Ireland. This was not so in the seventeenth century and earlier, when the O'Donegans held the manor of Kildrought. Thomas Donegan, from this family being earl of Limerick, and creater of the 1686 Don(e)gan Charter, whereby the city of New York was passed by the Dutch to Britain...