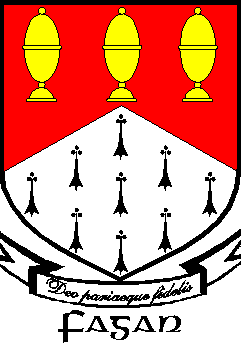 Get this crest printed on...
FAGAN Family History
This interesting surname is of Irish origin, but the source is uncertain. The Gaelic form is "O' Faodhagain", but a personal name Faodghagan is not known, and it may be a Gaelicized version of a surname of Norman origin. A number of Irish bearers of this name are descended from Patrick Fagan, who owned estates in County Meath in the 13th Century. According to tradition, his name was originally O' Hagan and he assumed the name Fagan at the command of King John, for reasons which are unclear. For many Centuries the surname has been associated with Counties Dublin and Meath; a branch of the family was also found in Kerry and another in Cork city, where Christopher Fagan took refuge in 1497...