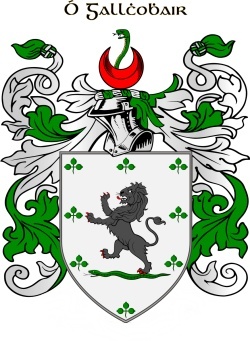 Get this crest printed on...
GALLAGHER Family History
Ó Gallchobhair- anglicised widely as Gallagher, also Gallaher. Woulfe in 'Sloinnte Gaedheal is Gall' (19230 gives the root as 'foreign help' from Gall or 'stranger'.
Descended from Maolchobha, the King of Ireland (642-654), they were a leading family of the Cinel Conaill; early established in Tirconnel, their territory spread over the baronies of Raphoe and Tirhugh in the modern Co Donegal.
They were a strong military family, and played a powerful role in the forces of the O' Donnells through 1400s to 1600s. A translation from the Irish for their name, gallchobhair (foreign help), was possibly acquired in the 3 centuries when they were marshalls in the armies of the O' Donnells.
They excelled as ecclesiastics throughout the late medieval to the early modern period, providing a line of bishops of Raphoe and Derry, and other clergy in Co Donegal and adjacent Co Derry.
The Gallaghers, one of the principal septs of Donegal, are still very numerous there. In fact, statistically they were 14th in the list of most common names in Ireland, compiled after the Registrar's Report on Births of 1890.
In William Petty's 'Census' of 1659, we find Gallagher as a 'Principal Irish Name' in:
Co Donegal
Tirugh Barony, O Gollogher 26 (families); Boylagh and Bannagh, O Gallocher 51; Raphoe, O Gollogher 19; Kill McCrennan Barony, O Gollogher 52; Inishowen, O Gollogher 12.
Co Sligo
Leynie Barony, Gallaghur 40; Carbry, Gillagher 8.
Co Leitrim
Rossclogher Barony, O Gallagher 15.
I found none in the lists for Co Derry, and the returns for Cos Mayo and Tyrone are missing.
By the time of Griffith's 'Valuation' (1847-60) the top counties for Gallagher households were: Donegal 1732, Mayo 627, Leitrim 262, Sligo 254 and Tyrone 228.
The births distribution from the Registrar's Report of 1890 shows most births in counties Donegal, Mayo, Tyrone, Sligo, Derry and Dublin.
Notable Gallaghers:
Laurence O' Gallagher, Bisop of Raphoe between 1466 and 1477, was cited on the Registry at Armagh for 'incontinence' and other crimes...'quae propter religionis et dignitatis scandalum'. Naughty fellow!
Redmond O Gallagher (1571-1601), Bishop of Derry, on the other hand, helped the Armada sailors wrecked off Donegal; had to go into hiding and was subsequently captured and executed by the English.
Frank Gallagher (1893-1962) born in Co Cork; he joined Sinn Féin in 1917, and after the electoral victory in 1918, worked with Erskine Childers on the publicity staff of the first Dáil. He was the first editor of De Valera?s newspaper, 'The Irish Press'.