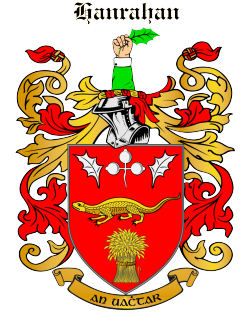 Get this crest printed on...
HANRAHAN Family History
Properly spelt O'Hanrahan, O'Hourihane, O'Hourahan, and others, but more popularly found as Hanrahan, Hourahan, Hourihan, Hourihane, and Handrahan, this is surname of ancient pre 10th century origins. It derives from the Gaelic O' hAnradain which is believed to translate as 'the descendant of the warrior', a meaning which has no doubt helped the clan to achive some popularity world-wide. The vast majority of Irish surnames descend from the nickname given to the original chief. Sometimes as with this name, it is complimentary, but more often it is at least robust, and often 'personal' to a level that it is difficult to see why the original holder should even accept it in the first place...