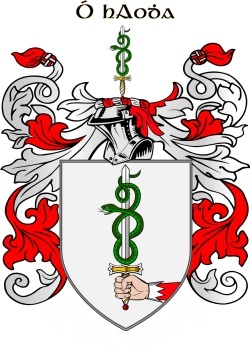 Get this crest printed on...
HAYES Family History
In Ireland, Hayes originated as a Gaelic polygenetic surname "O hAodha", meaning descendant of Aodh ("fire"), or of Aed, an Irish mythological god. Septs in most counties anglicised "O hAodha" to "Hayes". In County Cork, it became "O'Hea". In County Ulster, it became "Hughes", the patronymic of Hugh, an anglicized variant of the given name Aodh. Hayes is noted on a public record in County Wexford as early as 1182. In County Cork, under the Munster providence, Hayes falls under the banner of the McNamara clan in the Dalcassian Sept. The Hayes clan is also been known to hail allegiance to Clan Cian, the ruling O'Carroll clan, of southern Ireland.