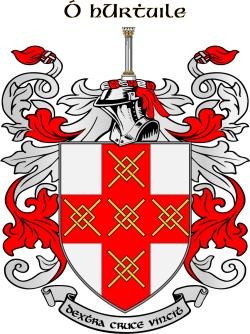 Get this crest printed on...
HURLEY Family History
The surname Hurley has become the anglicised version of several distinct original Irish patronymics:
1) Ó hUirthile, part of the Dál gCais tribal group, based in Clare and North Tipperary, from a personal name of uncertain meaning;
2) Ó Muirthile or Ó Murghaile, based around Kilbritain in west Cork, the most numerous of the three (MacLysaght, 1985); Woulfe (1923) gives the derivation from personal name meaning 'sea-tide';
3) Ó hIarlatha, from the district of Ballyvourney, also in Cork, whose name is more usually anglicised (O) Herlihy; Woulfe (1923) gives the derivation from personal name meaning 'under-lord';
4) Ó Comáin, usually anglicised Cummins in Co Cork, has also become 'Hurley' in some instances in Cos Cork and Clare, due to the mistaken belief that the personal name came from 'camán'- a hurley (stick), a practice known as 'pseudo-translation'.
In Griffith's 'Valuation' (1847-64) Hurley was most common in counties Cork (642), Kerry (87), Waterford (75), Limerick (73) and Tipperary (52). Total 1,127 Hurley and 105 Hurly.
Matheson's 'Special Report on Surnames in Ireland' (1909), based on the birth figures for 1890, listed Hurley as most numerous in counties Cork (86 births), Waterford, Dublin and Galway.
Hurley is also a Somerset surname, from a settlement of the name. There are also places so called in Berkshire and Warwickshire: Old English 'hyrne'- bend or corner and 'leah' - wood or clearing.