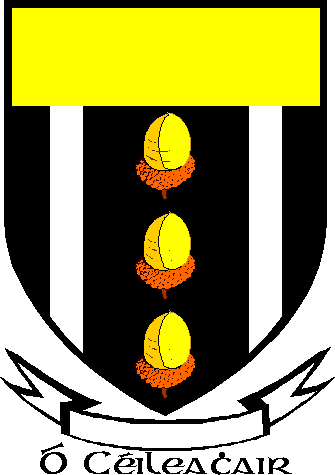 Get this crest printed on...
KELLEHER Family History
Recorded as O' Kelleher, more usually Kelleher and sometimes Kellegher and Keller, and originating from the pre 10th century O' Ceileachair, this is an ancient Irish surname. The first Ceileachair was the nephew of the famous Brian Boru, the High King of Ireland, and the founder of the Clan O'Brien. He died in battle it is said, in the 10th century. The O' Kellehers were in former times inhabitants of County Clare, but in the 14th century either voluntarily or under threat from other sources, they migrated mainly to County Cork, although with a branch in the adjoining County Kerry. Surprisingly given that the clan has one of the most ancient and honourable antecedents in Irish history, its numbers have certainly since the Middle Ages, remained quite small, estimated at about five thousand, and its prominence largely confined to County Cork where it is understood to have provided at least one Lord Mayor of the city, and a number of church men...