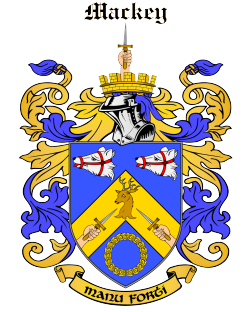 Get this crest printed on...
MACKEY Family History
This interesting surname, also written with the Gaelic prefix "Mac" meaning "son of", is an Anglicized form of the Gaelic (Scottish and Irish) patronymic "Mac Aodh". The personal name "Aodh" meaning "fire" was originally the name of a pagan god. In the "modern" idiom Mac Aodh has at least fifteen Anglicized forms including McKay, McKee, Kee, McCay, McCoy, McEa, and McAy. The form MacKee is widespread today in North East Ulster, especially in Counties Antrim, Down and Armagh, with Kee most numerous in County Donegal. One George McKe of Myretoun was mentioned in the Register of the Privy Seal, Scotland, in 1538, and Sir Patrick MacKee was a prominent County Donegal "servitor" at the Plantation of Ulster...