187,343 Global MCCARTHY Family Members
Days
Hours
Minutes
Seconds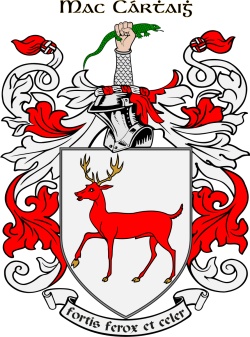 MCCARTHY
Family Room
Next Event:
Sunday 17th December
2pm (New York), 7pm (Ire)
Live
Days
Hours
Minutes
Seconds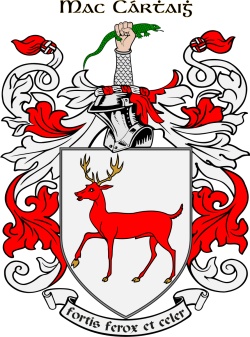 MCCARTHY
Family Room
Next Event:
Sunday 17th December
2pm (New York), 7pm (Ire)
Live
Our in-person family gatherings
Our TEDx talk about family gatherings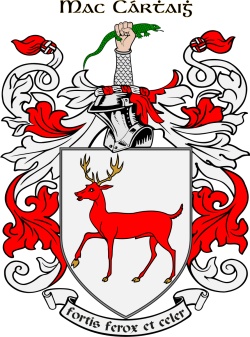 Design your own MCCARTHY Family Crest
MCCARTHY Family History
Mac Cárthaigh- anglicised MacCarthy, McCarthy, MacCarty, MacArthie, Carthy et al. Woulfe gives the root as Cárthach, Old Celtic 'Caratacos', meaning 'loving' ('Sloinnte Gaedheal is Gall', 1923). That must remain conjectural; one thing not in doubt is the antiquity of the M(a)cCarthy surname, derived from Cárthach, Lord of the Eóghanacht of Cashel, who died in 1045 in the deliberate burning of his residence by the O'Lonergans, according to 'The Annals of the Four Masters'.

Generally, MacCarthy has retained its prefix 'mac' (=son (of)), more usually anglicised as 'Mc'. Of course, the old red herring that Mac is Scottish and Mc is Irish (or was it the other way round?) should by now be dead and buried. Carthy without its prefix is occasionally found but Carty is usually attributable to any of several independent O'Carty septs scattered about Ireland deriving from same Cárthach forename.

M(a)cCarthy is in the top 12 names in Ireland, and looks set to stay there; the majority in Ireland today being found in Co Cork. The McCarthys' stamping ground was always south Munster, where, as purported descendants of Olioll Olum (or Ailill Ólom), king of Munster in the 3rd century(!), they claimed to have an Eoghanacht paternal bloodline (this name deriving from Olioll Olum's son Eoghan). The McCarthy Surname Study, testing the Y-DNA of over 300 present-day McCarthys and variants of the name, has clearly shown that this provenance is not valid. The traditional paternal origin in Cárthach's great grandfather Ceallachán of Cashel, king of all the Eoghanacht peoples for a number of years off and on before his death in 954, has been validated, but Y-DNA indicates that Ceallachán's paternal ancestry is of a completely different paternal bloodline. About 20% of today's McCarthys do, though, descend from Olioll Olum, but ironically these have acquired the name by means other than descent in their paternal ancestry from the eponymous Cárthach.
From the time of Cárthach's death, there are frequent references to his progeny throughout the 'Annals', so important a role did they take, particularly after the high king of Ireland's 'sponsorship' of the MacCarthys in the mid twelfth century. Certainly, Ruaidrí Ó Conchobair wanted to help the MacCarthys, by now the most powerful family in south Munster reputedly evolving from Eóghanacht origins, to establish the kingdom of Desmond. This would thus drive a wedge through Munster territory, ensuring that the Ó Briain kings, who had held the upper hand in their dynastic power struggle with the MacCarthys since the time of Brain Bóru(mha) a century and a half earlier, were restricted to North Munster (the kingdom of Thomond).

In the Pender 'Census' of 1659, carried out by William Petty's officials, McCarthy (or variants thereof) are listed among the 'Principal Irish Names occurring in towns, baronies and cantreds as follows:

Co Cork
Cork City, 17 families of McCarthey; Ibawne and Barrymore, 19 McCarty; Kinalea 23 Carthy; Kinalmeaky 6 McCarthy; Killbrittaine, 23 Carthy; Carbery East, 26 Ó Carthy, Carthy Oge and Carthy (see above re these names); Carbery West, 24 McCarthy; Orrery and Kilmore, 11 Carthy.
However it is obvious from the abundance of occurrences of names such as McDaniell, McOwen, McTeige and possibly McDonough (where not representing O'Donoghue), that the names of many were simply given, or at least recorded, in the format M(a)c + Father's forename, and this concealed many McCarthys. Ó Finine and Reagh, the name of the leading McCarthy sept in West Cork, were also likely McCarthys..

Co Limerick
Connologh Barony, Carty/McCarty 18.

Co Waterford
Barony Cosmore & Cosbride, Carty/McCarty 7.

There are no instances of the name in the Census returns for Cos Tipperary and Kerry, but the above note about concealment of McCarthy names again applies.
By the mid nineteenth century and the Griffith's 'Valuation' of households, the most common variant of the name seems to have been McCarthy, and the ensuing counties had the most: Cork 2094 + City 204, Kerry 715, Limerick 280 + City 30, Waterford 129.

The Registrar's figures for births in 1890 reveal that most occurred in Munster (438) with the next highest number in Leinster with a mere 35! The counties with highest numbers were Cork (with more than half the total Irish figure, which was 481), Kerry and Limerick.

A mere glance at the historical background indicates Co Cork as MacCarthy Heartland. The three great divisions of Clan Carthy were MacCarthy Mór [big, great], actually based in Kerry, MacCarthy Reagh ['swarthy'] and MacCarthy of Muskerry.

Two favourite historical MacCarthy figures of mine are [abundant choice!]:

Finin MacCarthaig, king of Desmond, 13th century resistance fighter; he curbed the Norman expansion in Munster.

Donough MacCarthy [1594-1665] Viscount Muskerry; he was a shrewd and intelligent operator in the upheavals of the mid 17th century. After the Confederacy of 1641, he was a builder between religious and ethnic sectarian interests, in facing the main threat: Cromwellian tyranny. In this he wasn't aided by the extreme catholic faction, headed by Rinuccini, the papal legate. The Muscrys [sic] held Blarney Castle.

Among their many foundations, Cormac MacCarthy (killed 1138) added the famous Romanesque chapel named after him to the assembly of ecclesiastical buildings on the Rock of Cashel.

The Cormac Mór who lived in Blarney castle temp Elizabeth 1st, known as the 'Baron of Blarney', attended the Parliament in London in 1578. He also became a Protestant. A tale has it that his consistently evasive letters, in response to Queen Elizabeth's demands roused her to call his protestations 'blarney'. So started the legend that kissing the Blarney Stone would convey eloquence.
Areas of Origin for MCCARTHY
Invite more MCCARTHY family members!
Write an email address and click 'Invite' to share this page with more members of the MCCARTHY tribe.
Family Coat of Arms Generator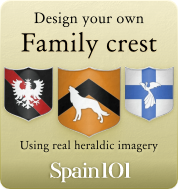 Why not see what your family crest could look like based on your own family characteristics?
Create Crest
Join the Irish Learning Rooms
SHOP
Show off the MCCARTHY Family Crest…
Wear your crest with pride...plenty of products to choose from