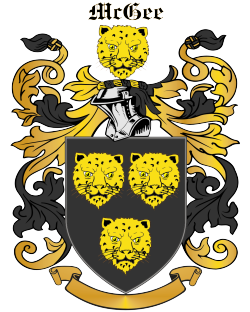 Get this crest printed on...
MCGEE Family History
This famous Gaelic surname recorded in the various spellings of Magee, MacGee, Mc Gee, MacGhee, McGoey, McGahy, Mogey, Moggy, Moggie, MacGhie, and possibly others, is Manx, Irish, and Scottish. It derives from "Mag", an early spelling of "Mac", indicating "son of ", plus the personal byname "Aodh" meaning "Fire", originally the name of a pagan god. The Irish nameholders belonged primarily to Ulster and their original territory lay on the borders of counties Donegal and Tyrone. It is interesting to note that the large neck of land on the east of Lough Larne in County Antrim is called Island Magee indicating that this territory was at one time in the possession of the Magees...