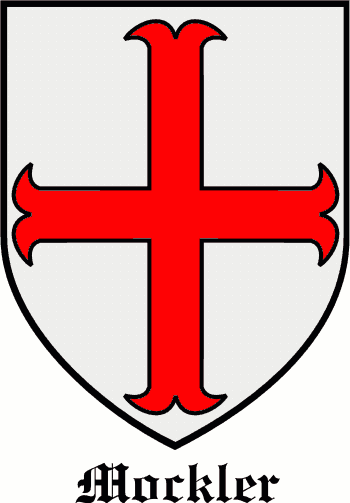 Get this crest printed on...
MOCKLER Family History
Recorded in various spellings including Manclark, Moakler, Mockler and Mokler, this is a most unusual surname. It is usually English, but of pre medieval French-Breton origin, and as such was probably introduced across the Channel after the Invasion of 1066. The derivation is from the pre 8th century words "mau-clerc", and the literal translation is "The bad cleric". As such this was a medieval nickname for a member of the church who was considered by his fellows to be somewhat less than righteous in his devotion to the vows of celibacy. Indeed this is a surname that could only have been brought into existence if either a priest left the church and married, or remained within the church, but in someway gave his name to various offspring! There must have been a number of them, because the name appears in the Curia Regis Rolls for the county of Warwickshire in 1194, when Roger Malclerc is so recorded, whilst Walter Mauclerc was recorded in Lincoln in 1207...