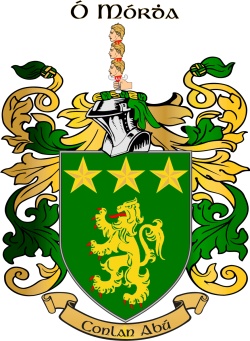 Get this crest printed on...
MOORE Family History
Ó Mordha - anglicised Moore, earlier O' More, More etc, meaning -stately/majestic
De Móra - from Anglo-Norman De La More, meaning - at the moor/heath, a locative name.
Ó Mothair - anglicised Moher and Moore, meaning descendant of Mothar (Woulfe in 'Sloinnte Gaedheal is Gall' 1923, says this name means - dark).
To these must be added two Scottish names, given the high numbers in the north of Ireland ( see Griffith's below): viz.
Muir - lowland Scots for 'moor', and thus a locative name
Moir - Scots Gaelic for 'tall/big', an epithet or descriptive name.
The O' More sept were the chief sept of Laois. The ruins of their fortress at Dunmasse in that county can still be seen. Famous resisters of Norman, then English colonisation, they led the struggles of the native Irish, particularly through the terrible years of the16th and early17th centuries.
For their heroic resistance, the leading families were transplanted to Co Kerry.
De Móra, which is a Gaelicisation of a Norman family name, was established in medieval times in Munster and Connacht. It's later anglicisation as Moore makes it difficult to distinguish from the Gaelic Moores.
The Ó Mothair sept were an old Cork family, which, Woulfe says, has become very rare. However, this may be because it has been absorbed by the anglicised form, Moore, which is taken to most often represent Ó Mordha.
In Petty's 1659 'Census' the name Mahur is given as a Principal Irish Name in Clonlisk Barony, Offaly, and registered with 26 families. Whilst in Laois in Maryborough Barony and Cullenagh Barony Moore is represented as a Principal Irish Name with 11 families apiece. Ditto in Sliemargheagh Barony, Moore appears again, and again in Ballyadams Barony with 9 families. Moore appears as a P.I.N. again in Portnyhinch Barony. All these in Laois, homeland of Ó Mordha!
By the mid 19th century Griffith's 'Primary Valuation' of property, the counties where most Moore households occurred were: Antrim (534) Down (404) Laois (290) Tyrone (237) Dublin (233) Derry (199)
The name More (as in St Thomas More) is also an English name, which occurs as Moor(e). The usual derivation is local, i.e. from the 'moor', or, via France, an epithet type name from 'Moor' as in North African, and meaning 'dark, swarthy'.
Two famous Moores:
Rory O' More was the indefatigable opponent of Queen Mary and Queen Elizabeth in the 16th century, and defeated the English invaders on several occasions.
Alfred Moore (1755-1810) a hero of the American Revolutionary War, and a descendant of Roger Moore, a hero of the Irish Rebellion of 1641... so that's three for the price of two!