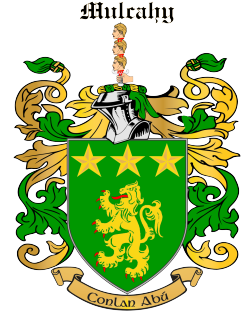 Get this crest printed on...
MULCAHY Family History
This notable Munster surname is an Anglicized form of the Old Gaelic "O'Maolchathaigh", descendant of Maolchathaigh, an ancient male given name composed of the elements "maol", from the pagan Irish "mal", chief, and related to the Welsh "mail", hero, with "cathaigh", the genitive of "cathach", warlike. Traditionally, Irish family names are taken from the heads of tribes, revered elders, or some illustrious warrior, and are usually prefixed by "Mac", denoting "son of", or "O", grandson, male descendant of. The "O'Maolchathaigh" sept is said to have originated in south Tipperary, and 17th Century records show that the name was numerous in that county, as well as in the neighbouring counties of Waterford, Limerick and Cork...