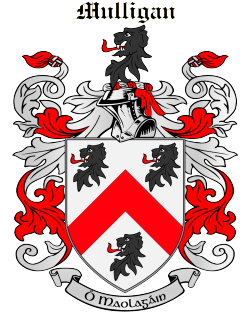 Get this crest printed on...
MULLIGAN Family History
This notable Irish surname is an Anglicized form of the Old Gaelic "O'Maolagain", descendant of Maolagan, a personal byname from a double diminutive of "maol", bald, tonsured. Traditionally, Irish family names are taken from the heads of tribes, revered elders, or some illustrious warrior, and are usually prefixed by "Mac", son of , or "O" denoting "grandson, male descendant of". The O'Maolagain sept is of distinguished origin, its chiefs being lords of a territory called Tir MacCarthain (in the baronies of Boylagh and Raphoe, County Donegal). They also held sway in the adjacent counties of Fermanagh and Monaghan up to the mid 17th Century, when they were largely dispossessed in the Plantation of Ulster...