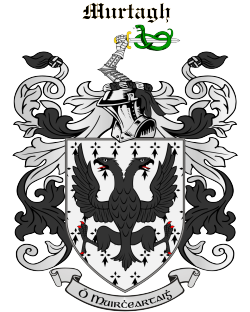 Get this crest printed on...
MURTAGH Family History
Recorded in various and diverse forms such as MacBrearty, McBrearty, McCurdy, McMurtyr, McMurthy, McMerty, MacMearty, O'Murtagh and Murtagh, this is an Irish surname. It is or rather was originally, generally specific only to the province of Ulster and the county of Donegal, where it is claimed to be a form of the Scottish MacMurdoch. The famous etymologist, the late Edward MacLysaght appeared to believe that it derived from the pre15th century Mac Muirchertaigh, meaning the son of the navigator, which would make it the same origin as the surname O'Murtagh, or the grandson of the navigator. If in fact the surname did originate from some (by medieval standards), far away place like Scotland, to be called the navigator, would seem to be a logical explanation for the meaning...