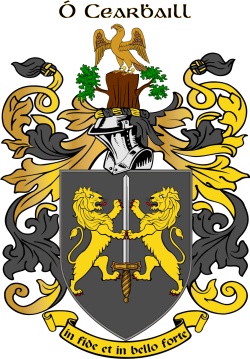 Get this crest printed on...
O'CARROLL Family History
O'Carroll is an Irish family name, deriving from the Gaelic ? Cearbhail. Notable is the history of the Clan ? Cearbhail whose territory, known as Ely O'Carroll in ?ile, consisted of the pasture lands of Ballycrinass, Rosscullenagh and Drumcan, extending to the Lake of Leghagh, commonly Laghaghirisallive and bounded on the west by the lands called Laghenagarken and on the east adjoining or near to Glencrokin. This was always known as Ely O'Carroll. The mountain land extended from the Laghanagerah (Lochan na gCaorach) to Polle Dowa (Poll Dubh in Roscomroe) and then in a south easterly direction to the Slieve Bloom Mountains, which are the limits between Ely O'Carroll and Upper Ossary meeting at a village called Garryvoe or Scully's land.