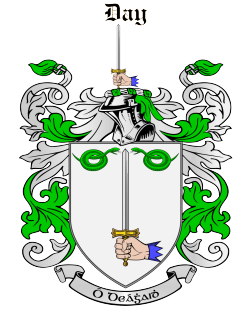 Get this crest printed on...
O'DEA Family History
Recorded in many spellings including O'Dea, O'Day, O'Dee, Dea, Day, and Dee, this is an Irish clan surname of considerable antiquity and prominence. It is particularly associated with the West Coast of the country and specifically Counties Limerick and Clare. There are several villages which were at times in the past centres of the clan. These include Tully O'dea and Dysart O'Dea, both in County Clare. The modern name spellings are an anglicization of the original Gaelic O' Deaghaidh, which translates loosely as 'the searcher', and probably refers to early disciples or holy men. It is said that the English surname of 'Godwin' is the synonym, so perhaps the translation is not so far out...