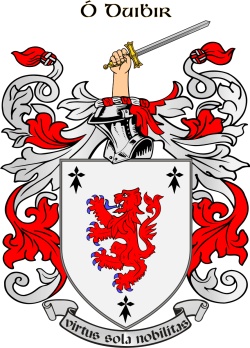 Get this crest printed on...
O'DWYER Family History
Dwyer is an Irish surname from from the Gaelic ? Dubhuir, meaning "black". O'Dwyer in Irish is "O'Duibhir" (pronounced O Dweer), meaning grandson of Duibhir, an ancestor who, by tradition, lived sometime around the tenth century. The exact meaning of the ancestor's name is unknown, though 'black skirt' is one possibility, but the common modern consensus is that it means 'black and dun-coloured' which is thought to refer to Duibhir's hair colouring.