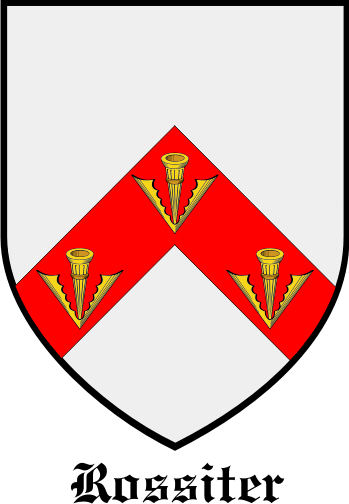 Get this crest printed on...
ROSSITER Family History
This interesting and unusual name is of Anglo-Saxon origin, and is a dialectal variant of Rochester, a locational name from places so called in either Kent or Northumberland. The place in Kent appears originally in the Saxon Charters of 445 as "Dorobrevi", from the British (pre-Roman), "duro" a stronghold, with "briva", a bridge, and later, circa 700, it was recorded in the Anglo Saxon Laws as "Hrofesceaster", or as "Hrofi", circa 730, in Bede's Ecclesiastical History; both deriving from the Olde English pre 7th Century "hrof", roof, with "ceaster", city or walled town. The derivation of the place in Northumberland is possibly the Olde English "hroc", rook, appearing in the Fees of 1242 as "Rucestr"; hence, "the city of rooks"...