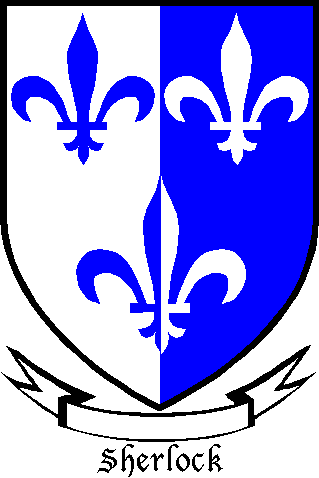 Get this crest printed on...
SHERLOCK Family History
This name, with variant spelling Shurlock and Scurlock, derives from the Olde English pre 7th Century 'scir' meaning bright or fair, plus 'loc', a lock of hair, (medieval England 'Shirloc'), and was originally given as a nickname to one with bright shining hair. The surname is first recorded at the beginning of the 11th Century, (see below). One, Ralph Shirloic appears in the 1159 'Pipe Rolls of London'. The Sherlocks are now regarded as one of the great Anglo - Norman families of Ireland where they first established themselves following the Norman invasion of 1170. The family acquired large estates of land in Leinster, and in early Medieval records pertaining to County Meath various archaic spelling of the name are recorded, for example, Scurlok and Scherlog...